February 15th

MCBC Executive Minister Job Posting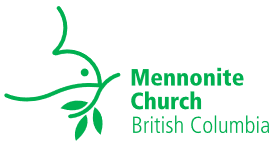 JOB DESCRIPTION
EXECUTIVE MINISTER
MENNONITE CHURCH BRITISH COLUMBIA (MCBC)

Purpose of Role
The Executive Minister (EM) works in close partnership with the MCBC Leadership Board to help shape and implement the missional vision of MCBC to foster and grow spiritually vibrant congregations and to develop and mentor leaders. MCBC's ministry is shaped by the desire to define and cultivate our Anabaptist vision of faith for today, to build healthy connections and grow community, and to meaningfully engage with our culture and God's world in transformative ways in accordance with our guiding documents and Confession of Faith.
Appointment: By MCBC delegate approval of Leadership Board's recommendation

Key Working Relationships
Accountable to the MCBC Leadership Board
Partners with MCBC Moderator and Executive Committee
Partners with and gives supervision to MCBC staff
Collaborates with other EM's across Mennonite Church Canada
Supports Ministry Leaders and their respective Task Groups
Shares and consults with MCBC pastors, congregational chairpersons, and delegates
Key Areas of Responsibility
Foster and help implement the vision of MCBC (30%)

Help shape and implement MCBC's vision and goals to fully engage in the mission of Christ and foster and sustain spiritually vibrant congregations.
Help MCBC and member congregations engage with important issues that help lead the church into the future well in a distinctly Anabaptist way.
Build healthy connections in and between congregations.
Connect and inspire congregations and their leaders to share common MCBC vision and goals.
Promote innovation and development in support of revitalization and growth across MCBC churches.

Give implementation and organizational leadership to the Ministries of MCBC (40%)

Actively participates as a member of the MCBC Executive Committee and Leadership Board.
Provide strategic direction and support to the various Ministry Leaders and Task Groups under MCBC's new structure.
Partner with and give supervision to the Church Engagement Minister, Office Administrator, and Communications Coordinator (MCBC Staff).
Primary representative and spokesperson for MCBC with congregations and partner organizations.

Provide pastoral support to pastors and congregations (30%)

Facilitate and lead in the establishing of mentoring and support for pastors.
Connect with member congregations and their leaders to understand their needs and concerns and help shape their visions for revitalization.
Participate with the Task Groups and churches with calling, recruitment, and credentialing of pastors.
Promote and celebrate the Anabaptist ministry of MCBC congregations.
Qualifications & Experience
Committed and mature follower of Jesus Christ
Embraces an Anabaptist understanding of faith and identity
Minimum of Bachelor degree (theology or related field a bonus)
Active membership in a congregation (MCBC congregation after hiring)
Senior leadership experience (pastoral and/or other contexts)
Ability to travel frequently (regionally, nationally, and internationally)

Personal Attributes & Gifting
Passionate about the local church
Strong communicator of vision and future direction
Demonstrates personal integrity, trustworthiness, and honesty
Thoughtfully engaged with and responsive to contemporary issues
Excellent intercultural skills and experience
Aptitude for strategic visioning; goal setting and implementation
Collaborative leader who works and equips others to achieve goals
Strong interpersonal skills and pastoral orientation
Able to manage multiple projects in team-based environment
Transfers wisdom to others through coaching and training
Proven mediation and conflict resolution skills
*More detail available upon request

Please send cover letter and resume to emstg@mcbc.ca

Application deadline February 15, 2022

Ideal start date Spring/Summer 2022 for handover with current Executive Minister