August 31st

Last Official MCBC Motorcycle Ride

Five riders and two passengers participated in this summer's MCBC Motorcycle Ride. Garry & Diane Janzen, Len & Cheryl Dyck, Rick Smith, Lars Schwanebeck, and (newly licensed) Belinda Luxton met in Chilliwack on Saturday morning, August 20. From there they rode up Highway 1 through the Fraser Canyon to Cache Creek where they stopped for lunch. The riders then travelled Highway 99 to Lillooet where they stayed the night.

On the road to Lillooet, Len & Cheryl Dyck's rear tire blew (dangerous on a motorcycle). Thankfully, they managed to stay upright. However, that meant the end of the journey – at least on motorcycle. They took a tow-truck ride home.

On Sunday, after breakfast together, the riders split into two groups – one group returned the way they had come, the other group took the Duffy Lake Road and the Sea-to-Sky Highway back home with stops at Duffy Lake and Squamish (for lunch).

Garry Janzen expressed gratitude for the friendships made over the 15 years of the MCBC Motorcycle Ride. He has many good memories of rides to many cool places in BC and Northwest Washington with groups of all sizes from as low as 4 bikes to as many as 25. This was the last official MCBC Ride, as Garry Janzen (the ride organizer) is retiring as MCBC Executive Minister. He is planning to extend invitations to ride as friends in the future, but it will no longer be considered an MCBC ride.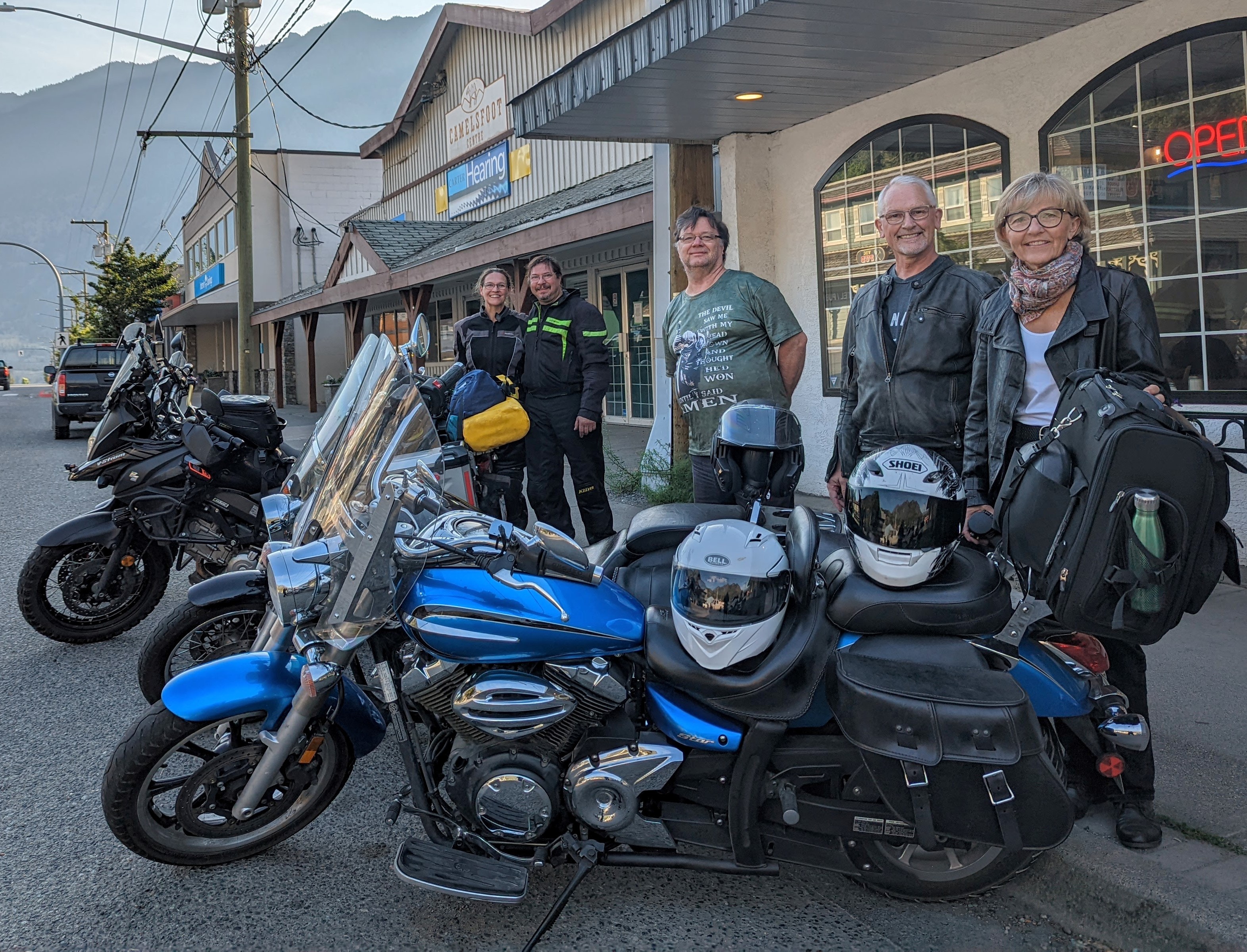 Pictured (L-R): Belinda Luxton, Lars Schwanebeck, Rick Smith, Garry & Diane Janzen
(Missing: Len & Cheryl Dyck)